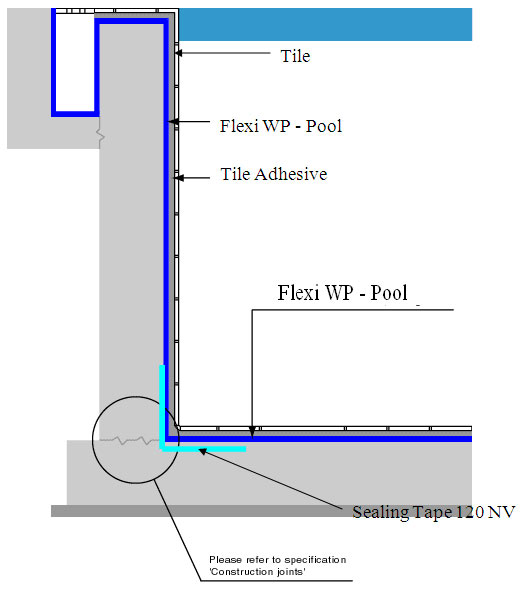 Recommended Treatment :
Step 1 :
Incase of construction of new water tanks, dense, impermeable concrete should be made by incorporating Conproof IWC (an integral waterproofing compound having plasticizing action).
Step 2 : 
Sealing Tape at the joint between vertical wall and horizontal slab ( Construction Joints) . Application Procedure : Cut the Colossus Sealing Tape to the required length and press onto the still fresh Colossus sealing compound, which serves as the adhesive base. Ensure that there is a tape overlap of at least 5 cm. Use a smoothing trowel to level out any uneven areas or distortions. Apply two or three coats and ensure that the tape is fully covered with the sealing compound.Use Colossus moulded Inside Corner and Out Side corner where ever it require.Colossus Inside Corners / Outside Corner are used as durable, watertight sealing in corners beneath ceramic layers. The inside corners / outside corners are embedded full surface in the sealing compound used.
Step 3 : 
The basic substrate on which the waterproofing treatment is to be done should be structurally sound, clean and free from oil, grease, tar, etc. Remove all the loose materials by wire brushing and clean by washing with water the entire area to be treated .Brush up two coat of Flexi WP – Pool
Step 4 :
Lay the Tile adhesive followed by Tiles