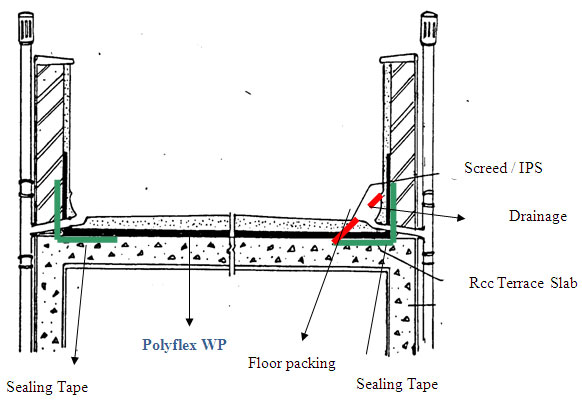 Step 1 :
The basic substrate on which the waterproofing treatment is to be done should be structurally sound, clean and free from oil, grease, tar, etc.
Step 2 :
Remove all the loose materials by wire brushing and clean by washing with water the entire area to be treated. In case if the concrete has been previously coated with Bitumen tar then remove the tar completely.
Step 3 :
All the cracks and crevices in the concrete slab to be filled in with polymer mortar Cement : sand, (1 : 3) along with Polyflex WP 10% by weight of cement.
Step 4 :
Sealing Tape at the joint between Terrace slab and Brick wall. Application Procedure : Cut the Colossus Sealing Tape to the required length and press onto the still fresh Colossus sealing compound, which serves as the adhesive base. Ensure that there is a tape overlap of at least 5 cm. Use a smoothing trowel to level out any uneven areas or distortions. Apply two or three coats and ensure that the tape is fully covered with the sealing compound. Use Colossus moulded Inside Corner and Out Side corner where ever it require. Colossus Inside Corners / Outside Corner are used as durable, watertight sealing in corners beneath ceramic layers. The inside corners / outside corners are embedded full surface in the sealing compound used.
Step 5 :
Floor Packing : Colossus Floor Packing is watertight, permanently elastic sealing on Drainage Pipe. The packing is made from a compound based on polymeric dispersion with a centrally inserted fabric layer. This material basis causes an excellent bonding with almost any waterproofing materials used extending over the entire surface of the floor packing
Step 6 :
Dilute Polyflex WP 1: 4 : 5 with water and mix with cement and pour on the bear slab to be treated. This will penetrate the pores of concrete, seal them and also improve the adhesion of sealing coats.
Step 7 :
Prepare a slurry using 1 part by weight of Polyflex WP and 1¼ fresh white or grey ordinary Portland cement. Use a mix by weight of 1:1¼ for the first coat and 1:1.5 for subsequent coats. The mixing is best done using a low- speed stirrer, but continuous hand-mixing to a lump-free consistency is also adequate. Apply the slurry by brush to the damp surface. Prepare only as much slurry as can be used within 30 minutes. Keep the mix continuously stirred. Apply by brush two more coats of similar slurry at 24 hour intervals and allow to set for 48 hours. Cure the coating for 7 days by sprinkling water thrice a day on the vertical surface (external walls) and by moist gunny bags on the horizontal surface.
Step 8 :
Lay 2 – 3 inches screed of rich mortar ( cement / Sand 1:4 ) incorporating Conproof IWC / Polyflex WP with proper slopes towards the drainage points. Top of the screed to be smooth IPS finish.